In the fight against corona, we like to deliver face shields to care professionals. We call it the Junior888 because it is derived from the Brussel888. The number 888 indicates that the design was created from office materials, where a perforator is used at setting 888.
Read more details at: https://junioriot.org/junior-iot-against-corona/.
On this page, we explain how to use the face shield.
What you need from us
To assemble your face shoeld you need these ready-made materials:
The 3D printed headband
Transparent sheet A4 with 4 holes
Two or three postal elastic bands according to your personal choice. We have these in sizes of 9, 12 and 14 centimeters.
Assembling the face shield
Assemble your face shield in a few steps:
Mount the four round pins on the headband into the transparent sheet by clicking them into the 4 holes.
Connect two elastic bands to create a size of your choise. If you are not yet sure which size fits you, best is to start with one band of 12 centimeters and one of 14 centimeters.
Put the elastic bands loosely on the hooks and see if your screen fits properly.
This is it, your fase shield is ready.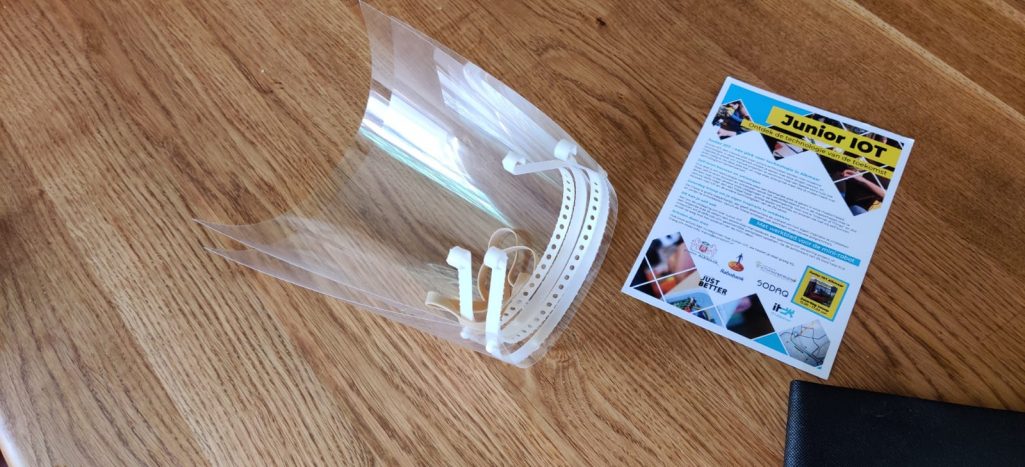 Adjustment of size
As a user you may want to adjust the size to find a good fit.
If you only have the standard size rubber bands of 12 centimeters, first put two together and see if your screen fits without being tight. Bring a third rubber band with you, to be able to adjust the size later. You can shorten the connected rubber bands by loosely tying a knot into the bands.
For a better fit, we have organized to get different sizes in rubber bands. We have 9, 12 and 14 centimeters. These you can combine into different sizes.
S

18 cm, 9 + 9
21 cm, 9 + 12

M/L

23 cm, 9 + 14
24 cm, 12 + 12
26 cm, 12 + 14

XL

27 cm, 9 + 9 + 9
28 cm, 14 + 14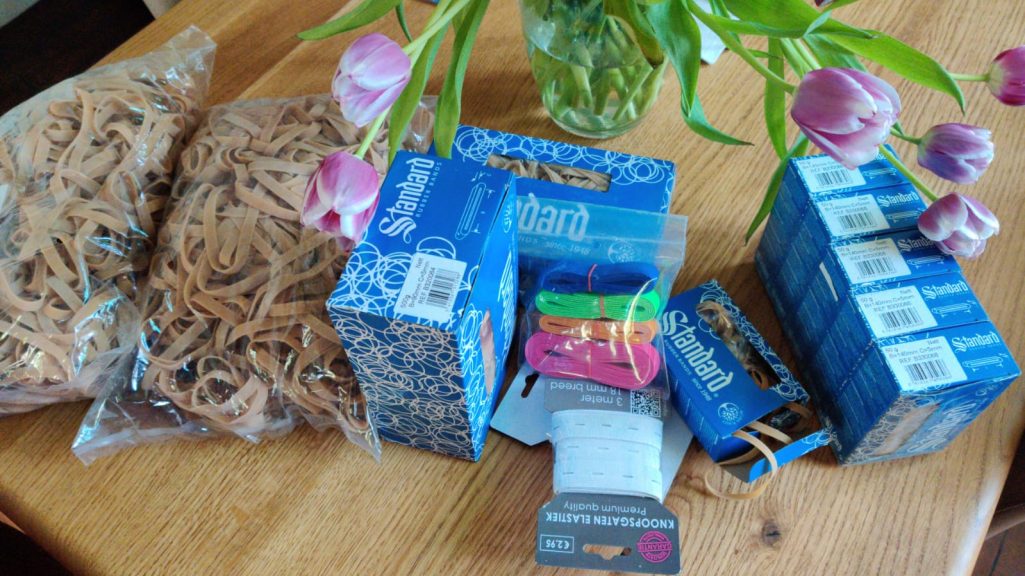 That is easy. Do you have more tips?
You can use buttonhole elastic as a more comfortable alternative. We have sourced a few meters of this material. Use a piece of about 30 centimeters, using the holes in the band to adjust your fit.
There is no need to further adjust the plastic sheet. However it is easy to use a scissors to make the corners round.
If you like to tighten the bottom of the screen, you can use your perforator to make two extra holes and tie the bottom with a strap or a band. In our experience this will not be needed for our choise of sheets.
Cleaning and reuse
Your work environment will have specific rules about cleaning or reuse of protective equipment. These rules may have been modified temporarily. You should always clean your screen according to the rules specific to your place.
We have heard that cleaning with an alcohol wipe works well. We are also curious about how you do this with a chlorine solution.
Important
Warning: A face shield is an additional protection device to create an additional barrier. Be aware that the air we breathe moves around the shield. It is imortant that you keep using your other protective gear and keep your distance. Please make responsible choices.