The fight against Corona affects us all. At Junior IOT, from the end of March, we are looking for ways to use our skills and our machines to quickly make a meaningful contribution to this fight. We use our technology to make our  living environment better, more beautiful and more enjoyable together. This to us is an important cause, so we have already started!
– – in dutch: https://junioriot.nl/junior-iot-tegen-corona/
Background
In response to the shortages in protective equipment, makers around the world have created a number of designs. These designs allow us to create protective equipment with a 3D printer or a laser cutter and a number of basic materials. These materials are not affected by current shortages. Designs are shared between maker groups and further refined. At Junior IOT we refined a version that fits well with our choice of materials.
Junior IOT  Foundation has a makerspace in Alkmaar where junior participants work with modern technology. We work on a non-profit basis with the goal to further fuel the passion for technology. Now, we want to use this passion to contribute to the fight against corona.
How do I use my protection mask?
To prepare our face shield for your work, you'll have to do minor assembly. The details are explained on this page: http://junioriot.org/use-junior888/
Warning: A face shield is an additional protection device to create an additional barrier. Be aware that the air we breathe moves around the shield. It is imortant that you keep using your other protective gear and keep your distance. Please make responsible choices.
Our story is not a sales pitch
When displaying the face shield to the different orgnizations we had to emphasize that we are not trying to sell anything. We offer the materials free of charge to make a meaningful contribution. This approach allows us to start very quickly! Next to this proposal, we are looking for donations to cover our costs.
Our face shield design 'Junior888'
Currently it appears that our region needs face shields. Please be aware these are always used in combination with a mouth mask.
A face shield consists of a transparent sheet that is folded around the face. This is kept in place with a headband and an elastic band.
Our design uses materials which are readily available. Read more at: https://junioriot.org/junior888-design/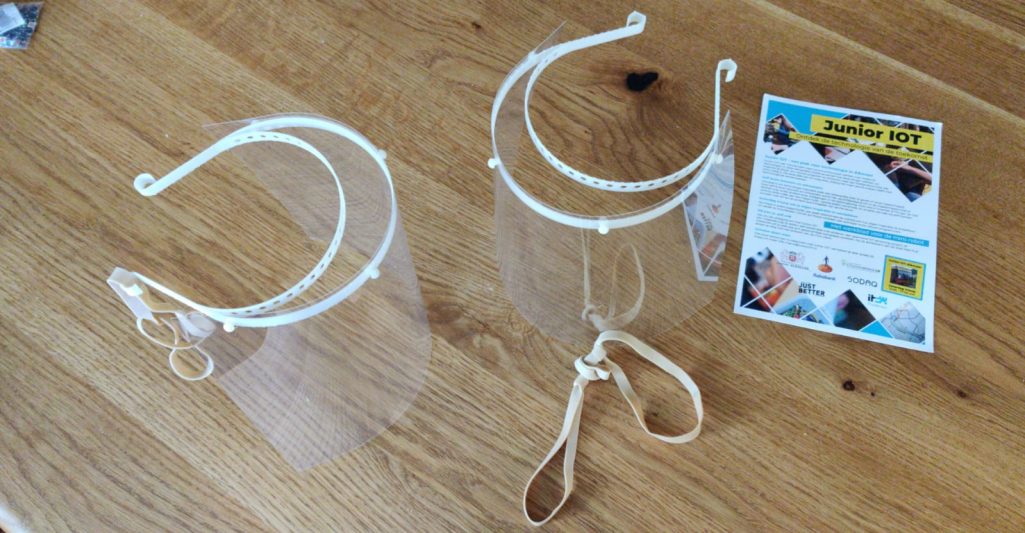 First test batch
On April 8th we delivered the first batch to our first customer, 50 pieces for Esdégé-Reigersdaal. They will use these at their different care locations. We will soon deliver the next batch.
Will you print for us?
We invite more people to make the 3D printed headbands. Sign up at [email protected] and get your files from https://junioriot.org/face-shield-junior888/.
Our friends and volunteers are making the parts on a voluntarily basis. Where needed we do reimburse the materials.
Does your organization want to use the screens as well?
We are happy to deliver the screens to you. Send an email to [email protected] and together we will make this happen.
How much does it cost… Nothing! We believe it is important to deliver the shields quickly, without delays. We are glad to be of help in this crisis.
You can give a voluntary contribution to help our friends and volunteers – but please note, payment is not required.
Do you want to support the cost of the project or supply materials?
We are able to produce the shields efficiently and cheap due to the efficient design choices. Stil with everything included, our cost may add up to one euro each. For our foundation this is a heavy burden if we want to produce hundreds or thousands.
Would you like to sponsor us? Send an email to [email protected] and we will send you a 'tikkie' for easy money transfer, or a sponsor invoice for an amount of your choice.
You can also donate any transparent sheets you may still have in stock. We use a thickness of 180 to 300 microns. We are still investigating which types are suitable, for now all types of materials are welcome.
Money is not always the answer: Don't forget the makers. Also outside this crisis, you can also help by visiting your local creative space. Find out which possibilities are available in your neighborhood. Their website will explain their role in refreshing modern knowledge and skills in our society. This is something we will all benefit from in the near future!
As a company we invite you to sponsor these places with money or materials. Both are also needed at Junior IOT. Please consider us to participate in your company day or your technology event.
Do you want to replicate our design?
We'd appreciate the compliment, so please go ahead. We do require you to keep offering this for free or at cost price.
We advise you to make packages of 10 or 20 pieces, with the headbands and elastic bands packed in a ziplock bag. Make sure that you supply all the necessary parts so that your careworker does not have to source for anything.
We are happy to share our information with people who want to produce these shields themselves. You can find the 3D print files on these pages. Feel free to use the information – but never to make money.